Date & Time Fields
Post Information
Posted on June 13, 2012
By Daniel Morrison
We've added a new data type to Templates and Forms: Date & Time.
When you add a field, the Date & Time field gives you the option of 3 display types: Date with Time, Date only, or Time only. Each of them can be easily formatted with our date template tag.
As an example, you can add a Date with Time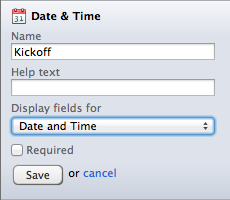 And it will give you these options in your template or form:

A Date only field is similar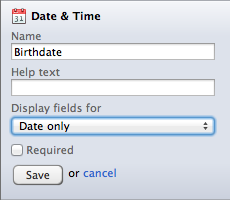 Giving you only the date selection:

We have plans to make these a little more friendly and flexible, but we wanted to get them in front of you to get feedback. Give them a try and let us know what you think!
1 Comment
Date and time are important markers of consumer behavior and their lifestyles so it's important to incorporate these fields when asking site visitors for personal information. It also allows site owners to document online activity in their sites.