Comment Text Filters
Post Information
Posted on November 30, 2010
By John Nunemaker
It certainly did not take Jon, our newest member, long to make an impact on Harmony. He has not even technically had his first day and already he cleared the support queue and added a new feature.
From the beginning, Steve and I have been about shipping. Our first goal is to get something out there and our second goal is to add to it. Originally, we just decided to roll with Textile as the formatting language of choice for comment body's as it was easy and familiar.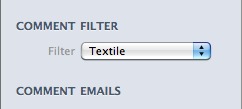 Not long after, due to requests, we added support for using Markdown with long text fields, but unfortunately comments lagged behind. Jon closed his first Harmony issue by giving comment text some love.
Harmony now supports Textile, Markdown, and Plain Text (which does simple line break formatting) as filters for comment body text. The default is Textile for backwards compatibility, but now on any blog's settings, in the sidebar, you can change it to whatever your heart desires.
Congrats to Jon on his first commit to Harmony and enjoy the addition!
Make a Comment